Sintered Neodymium MagnetAs lanthanide series of elements in the periodic table, sintered neodymium magnets (sintered NdFeB magnets or sintered NIB magnets) are also known as rare earth magnets. Featured by outstanding magnetic properties, they are the most powerful magnets used today...
Bonded Neodymium MagnetBonded NdFeB magnets are manufactured with melt spinning of a thin ribbon of NdFeB alloy. This ribbon contains randomly oriented Nd2Fe14B nano-scale grains. Then, the ribbon is pulverized into particles and mixed with a polymer. At last, it is compressed into bonded neodymium...
Neodymium Magnets
Description
Neodymium magnet is mainly made from the alloy of neodymium, iron and boron. It is a kind of rare earth magnet which is most widely used. In Nd2Fe14B tetragonal crystalline structure, it is also called NdFeB magnet or NIB magnet. It is the strongest type of permanent magnet made so far, so neo magnet is known as the king of magnets and widely utilized in various fields. They may be either sintered ones or bonded ones.
Types
1. Sintered Neodymium Magnet
2. Bonded Neodymium Magnet
Shapes
1. These magnets are featured by small size, metallic appearance and simple shapes such as rings, blocks and discs.
2. We can customize NdFeB magnets according to customers' requests.
Choose Neodymium Magnet from Following Shapes
Applications
NdFeB magnets are widely applied in aviation field, aerospace field, electronic industry, electrical industry, mechanical industry, instrument manufacturing, transportation industry, medical field, commodity industry, etc. Exactly speaking, they are used in machineries which are equipped with magnetic devices.
Manufacturing Process of Neodymium Magnet
Mill neodymium, iron, boron and transition metals into NdFeB powder, then compact the powder into desirable shape. Next, sinter the compacted powder and melt it. Cool down the melted metal, you will find it becomes a solid metal item. Then, conduct finish machining on the metal item. There are two forms for pressing: die pressing and isostatic pressing.
Maintenance of NdFeB Magnet
DO NOT place neodymium magnets in following environments to prevent them from rusting or reducing magnetic performance.
1. Acid or Alkali Liquor
2. Organic Solvent
3. Electrolyte
4. Water or Oil
5. Hydrogen
6. Active Gas like Chlorine, Ammonia, Oxynitride
7. Radiation or Radioactive Rays
Package and Delivery of Neodymium Magnet
1. NIB magnet is packaged in cartons.
2. During transportation, handle the cargo with care. Besides, the cargo should be shockproof, rainproof and be placed in ventilated, dry, no-erosion environment.
3. Deliver cycle is about 20 days.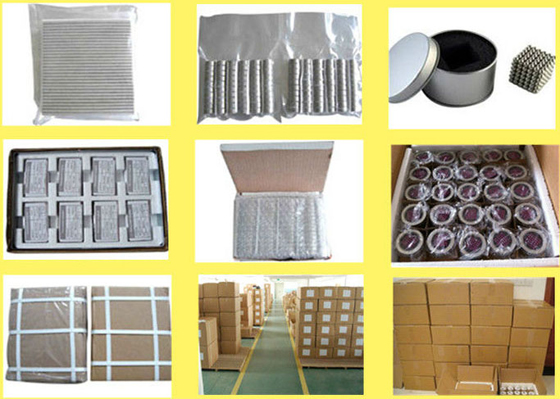 Physical Properties of NdFeB Magnet
| | |
| --- | --- |
| Property | Specification |
| Hardness | 570 HV |
| Resistivity | 150 μΩ·cm (10℃-120℃) |
| Compressive Strength | 780 N/mm2 |
| Thermal Expansivity (Vertical to Reference Direction) | -4.8 × 10-6 K |
| Thermal Expansivity (Parallel to Reference Direction) | 3.4 × 10-6 K |
Size Specifications of Neodymium Magnet
Ring Shape
Outer Diameter
Inner Diameter
Thickness
Disc Shape
Diameter
Thickness
Max.
100.00 mm
80.00 mm
30.00 mm
Max.
50.00 mm
20.00 mm
Min.
2.60 mm
1.80 mm
0.50 mm
Min.
1.20 mm
0.50 mm
Tolerance
+/-0.1 mm
+/-0.1 mm
+/-0.1 mm
Tolerance
+/-0.1 mm
+/-0.1 mm
Square Shape
Length
Width
Thickness
Customized Shapes
Max.
80.00 mm
80.00 mm
30.00 mm
Min.
2.00 mm
1.50 mm
0.50 mm
According to Samples or Design Data
Tolerance
+/-0.1 mm
+/-0.1 mm
+/-0.1 mm
Max. Working Temperature of Neodymium Magnet
| | |
| --- | --- |
| Type | Max. Working Temperature (Pc=1) |
| N | 80 ℃ |
| M | 100 ℃ |
| H | 120 ℃ |
| SH | 150 ℃ |
| UH | 180 ℃ |
| EH | 200 ℃ |
Surface Treatment of NIB Magnet
| | |
| --- | --- |
| Item | Specification |
| Metal | Zn, Ni, Ag, Au |
| Organic Substance | Epoxy Resin Spraying, Ni and Epoxy Resin Spraying |
| | Surface Passivation |
Magnetization Directions of Neodymium Magnet
a. Thickness Magnetized
b. Axially Magnetized
c. Diametrally Magnetized
d. Multi-poles Magnetized
e. Radially Magnetized
f. Customized Specific Requirements Magnetized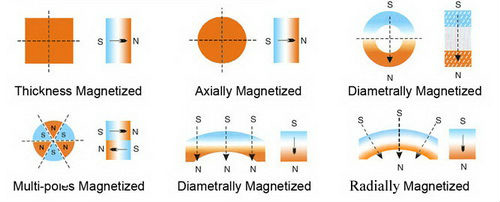 Magnetic Properties of Neodymium Magnet
Grade
Remanence
Coercive Force
Intrinsic Coercive Force
Maximum Energy Product
Temperature
Density
Br
Hcb
Hcj
(BH) Max.
Tw
ρ
T
KGs
KA/m
KOe
KA/m
KOe
KJ/m3
MGOe
℃
g/cm3
N35
1.17-1.22
11.7-12.2
≥859
≥10.8
≥955
≥12
263-287
33-36
≤80
≥7.4
N38
1.22-1.26
12.2-12.6
≥859
≥10.8
≥955
≥12
287-303
36-38
≤80
≥7.5
N40
1.26-1.29
12.6-12.9
≥836
≥10.5
≥955
≥12
303-318
38-40
≤80
≥7.5
N42
1.29-1.32
12.9-13.2
≥836
≥10.5
≥955
≥12
318-342
40-43
≤80
≥7.5
N45
1.32-1.37
13.2-13.7
≥836
≥10.5
≥955
≥12
342-359
43-45
≤80
≥7.5
N48
1.36-1.42
13.6-14.2
≥836
≥10.5
≥955
≥12
358-382
45-49
≤80
≥7.5
N50
1.40-1.45
14.0-14.5
≥836
≥10.5
≥955
≥12
374-406
47-51
≤80
≥7.5
N52
1.42-1.48
14.2-14.8
≥836
≥10.5
≥876
≥11
389-422
49-53
≤80
≥7.5
N30M
1.08-1.14
10.8-11.4
≥812
≥10.2
≥1114
≥14
223-247
28-31
≤100
≥7.5
N33M
1.14-1.17
11.4-11.7
≥852
≥10.7
≥1114
≥14
247-263
31-33
≤100
≥7.5
N35M
1.17-1.22
11.7-12.2
≥876
≥11.0
≥1114
≥14
263-287
33-36
≤100
≥7.5
N38M
1.22-1.26
12.2-12.6
≥916
≥11.5
≥1114
≥14
287-303
36-38
≤100
≥7.5
N40M
1.26-1.29
12.6-12.9
≥939
≥11.8
≥1114
≥14
303-318
38-40
≤100
≥7.5
N42M
1.29-1.32
12.9-13.2
≥955
≥12.0
≥1114
≥14
318-334
40-42
≤100
≥7.5
N45M
1.32-1.38
13.2-13.8
≥987
≥12.4
≥1114
≥14
334-366
42-46
≤100
≥7.5
N48M
1.36-1.42
13.6-14.2
≥1018
≥12.8
≥1114
≥14
358-390
45-49
≤100
≥7.5
N50M
1.39-1.45
13.9-14.5
≥1050
≥13.2
≥1114
≥14
374-406
47-51
≤100
≥7.5
N30H
1.08-1.14
10.8-11.4
≥812
≥10.2
≥1353
≥17
223-247
28-31
≤120
≥7.5
N33H
1.14-1.17
11.4-11.7
≥851
≥10.7
≥1353
≥17
247-263
31-33
≤120
≥7.5
N35H
1.17-1.22
11.7-12.2
≥875
≥11.0
≥1353
≥17
263-287
33-36
≤120
≥7.5
N38H
1.22-1.26
12.2-12.6
≥916
≥11.6
≥1353
≥17
287-303
36-38
≤120
≥7.5
N40H
1.26-1.29
12.6-12.9
≥939
≥11.8
≥1353
≥17
303-318
38-40
≤120
≥7.5
N42H
1.29-1.32
12.9-13.2
≥955
≥12.0
≥1353
≥17
318-334
40-42
≤120
≥7.5
N45H
1.32-1.38
13.2-13.8
≥987
≥12.4
≥1353
≥17
334-366
42-46
≤120
≥7.5
N48H
1.36-1.42
13.6-14.2
≥1026
≥12.9
≥1273
≥16
358-390
45-49
≤120
≥7.5
N30SH
1.08-1.14
10.8-11.4
≥812
≥10.2
≥1592
≥20
223-247
28-31
≤150
≥7.5
N33SH
1.14-1.17
11.4-11.7
≥851
≥10.7
≥1592
≥20
247-263
31-33
≤150
≥7.5
N35SH
1.17-1.22
11.7-12.2
≥876
≥11.0
≥1592
≥20
263-287
33-36
≤150
≥7.5
N38SH
1.22-1.26
12.2-12.6
≥899
≥11.3
≥1592
≥20
287-303
36-38
≤150
≥7.5
N40SH
1.26-1.29
12.6-12.9
≥931
≥11.7
≥1592
≥20
303-318
38-40
≤150
≥7.5
N42SH
1.29-1.32
12.9-13.2
≥963
≥12.1
≥1592
≥20
318-334
40-42
≤150
≥7.5
N44SH
1.30-1.36
13.0-13.6
≥995
≥12.3
≥1592
≥20
326-359
41-45
≤150
≥7.5
N30UH
1.08-1.14
10.8-11.4
≥812
≥10.2
≥1990
≥25
223-247
28-31
≤180
≥7.5
N33UH
1.14-1.17
11.4-11.7
≥851
≥10.7
≥1990
≥25
247-263
31-33
≤180
≥7.5
N35UH
1.17-1.22
11.7-12.2
≥875
≥11.0
≥1990
≥25
263-287
33-36
≤180
≥7.5
N38UH
1.22-1.26
12.2-12.6
≥915
≥11.5
≥1990
≥25
287-302
36-38
≤180
≥7.5
N40UH
1.26-1.32
12.6-13.2
≥939
≥11.8
≥1990
≥25
302-334
38-42
≤180
≥7.5
N30EH
1.08-1.14
10.8-11.4
≥812
≥10.2
≥2388
≥30
223-247
28-31
≤200
≥7.5
N33EH
1.14-1.17
11.4-11.7
≥851
≥10.7
≥2388
≥30
247-263
31-33
≤200
≥7.5
N35EH
1.17-1.25
11.7-12.5
≥875
≥11.0
≥2388
≥30
263-295
33-37
≤200
≥7.5
N38EH
1.22-1.29
12.2-12.9
≥907
≥11.4
≥2388
≥30
287-318
36-40
≤200
≥7.5
N30AH
1.08-1.20
10.8-12.0
≥860
≥10.8
≥2626
≥33
247-263
31-35
≤220
≥7.5